Software & Screens for all systems
Expert Automation has extensive experience with PLCs and Touch screens form Automation Direct, Allen-Bradley, Omron, Idec, EZ Automation, Red Lion and Maple Systems.

We have experience in developing the following types of systems and sub-systems:
Programmable-Logic Controllers (PLCs)
Touch screens
Servo systems
Custom protocol-translation
Variable-Frequency Drives (VFDs)
ORP monitoring and control
Conductivity monitoring
SCADA
Encoders
Rectifier Control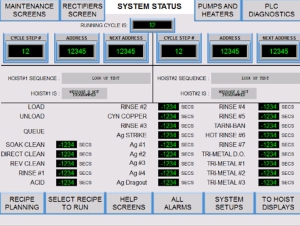 We have dozens of systems in the field that use the above-mentioned systems. We started in the metal-finishing industry (plating, cleaning, anodizing and so on)
Since then we have supported the following industries:
Biodiesel generation

Natural gas purification

Agricultural sprinkler systems

Printing-press network support

Plating Waste-Treatment controls and monitoring
Vending systems

Storm-water pumping

Ground-water remediation

Flexible-circuit processing
Some of our larger clients:
Lockheed-Martin Aeronautics, St. Petersburg, Florida
ASIeei, Largo, Florida
WestRock, Jacksonville Florida
GMF Industries, Lakeland, Florida
SIBE Automation, Ocala, Florida
Precision Industries, Valdosta, Georgia
Precision Plating Company, Chicago, Illinois
Tech-Etch, Plymouth, Massachusetts
The City of Naples, Florida
Halkey-Roberts, St. Petersburg, Florida
Due to corporate policy, we will not provide automation support for the following industries:
Alcohol-related, except wine-making
Tobacco-related
Legalized marijuana production
Non-military firearm production or ammunition
Non FDA-Approved supplements
Equipment destined to be shipped to communist countries
Equipment destined for countries actively supporting terrorism
Anything else is acceptable.